Q&A with Kottler Metal Products
Using our new contact section, it's now easier than ever to get in touch with Kottler Metal Products to see how we can help with your bending projects. We are often asked if a job is too small for our operation, and we want to respond to your questions and set the record straight. Size doesn't matter!
Q: I was browsing your webpage and was impressed by your huge machines and your ability to bend large beams and pipes. I don't have the need for anything that big, but am looking for someone who can bend some small parts that are used in a storage and racking system in my showroom. My material is ¾" round bar. Is this too small for a company like yours?
KMP: No job is too small for Kottler Metal Products, and we appreciate the opportunity to work with you on your bending requirements. Our customers represent a wide range of industries and have an incredibly varied set of specifications that they require of us when partnering on a bending project. Thanks to the benefits of strength, longevity, and aesthetic value, the uses for our pipe and tube bends continue to grow and extend through countless industries and applications. While we like to boast our ability to bend up to 40" beams and 20" pipes, we also commonly work with much smaller materials. On any given day, our shop could be working on ½" tube coils for a heating and cooling assembly, or 24" beams for a buildings structural supports. Remember, bending takes more than just brawn. We use a variety of techniques to make sure that we can supply you with bends that meet your individual needs and are representative of the highest industry standards, large or small.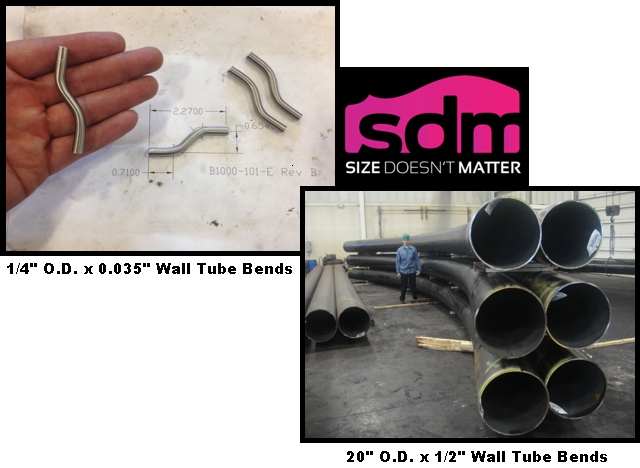 Q: We are looking for someone to bend a small custom fabricated beam that is used in a conveyor system. I can supply the material and would be happy to provide a drawing with the specifications. I am sure you are used to producing large runs of parts, so I wanted to check first and see if this is the type of service you provide since I only have the one piece.
KMP: Your project is important to us whether it requires a single piece or is a large production run. Kottler Metal Products values your business and has built its reputation by providing our customers with service and quality, regardless of the size of an order. Our facility is well equipped to handle large quantity orders, and it's not uncommon for us to process a job with hundreds of parts for the automotive industry, exercise equipment companies, or other institutional clients. At the same time, we pride ourselves on being a "job-shop" that can think "outside of the box" to find a creative approach to your individual bending requirements. We often have to develop a single replacement piece for the local power company when they have breakdowns and outages, or may have a customer who needs a custom chrome exhaust pipe bent for a personal project. We also excel in making prototypes that often only require a single finished piece for customer review. Big or small, Kottler Metal Products would appreciate the opportunity to quote your next bending project.