by Chad Felton, The News-Herald
After three to four years of planning and constant questions about its date of completion, Lake Metroparks has officially opened its new 200-foot pier at Painesville Township Park.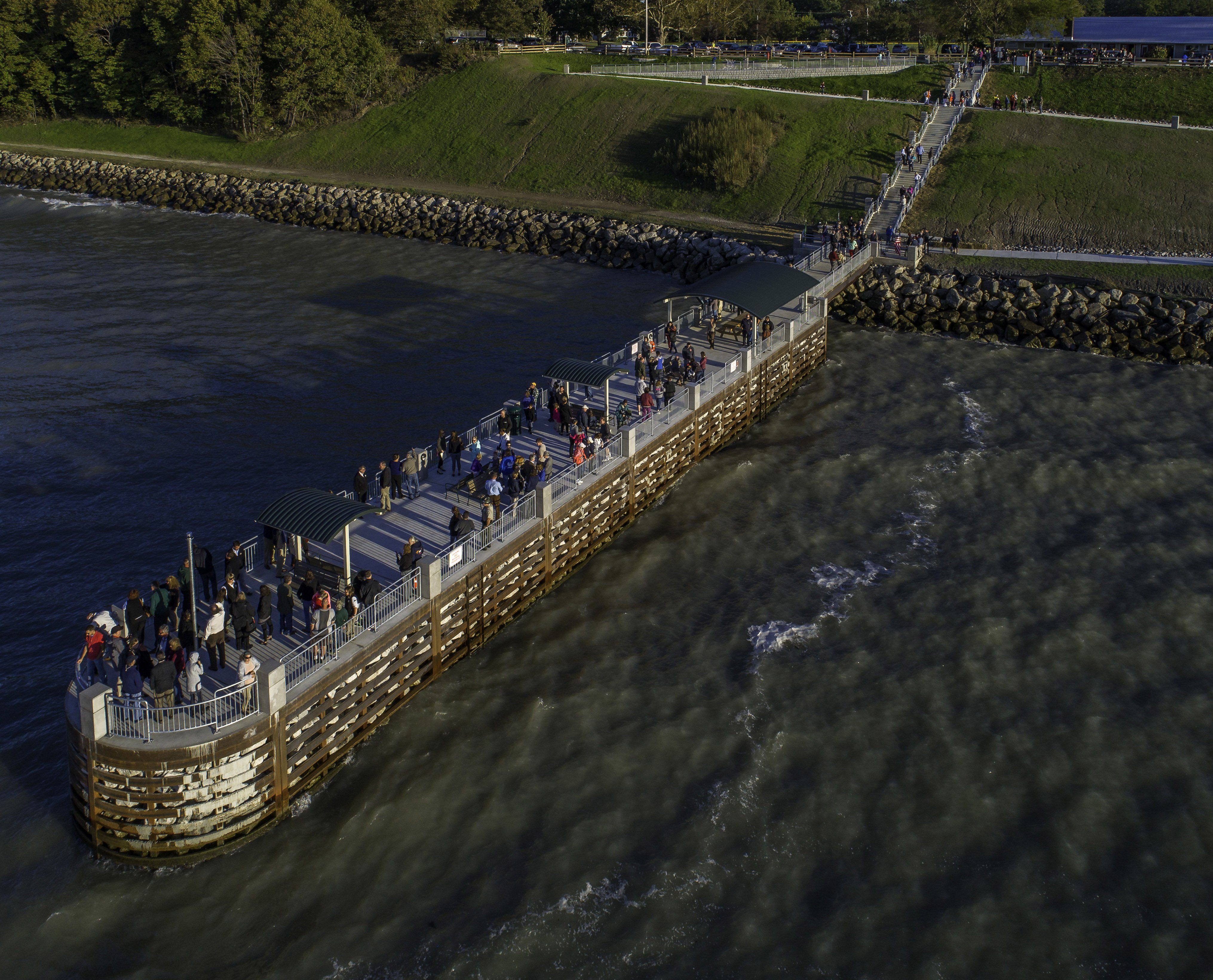 The pier, 20 feet in width and standing 10 feet above the lake, was constructed in two stages, with an 800-foot anti-erosion wall costing $619,000 and the pier itself totaling $1.96 million. A 50-foot bridge connects the pier to the shoreline.
Stairs and an ADA-accessible walkway allow visitors to reach the shore which had rapidly eroded over the years.
"We started to see the old steel sheet wall fail slowly and then very rapidly, and we had to close off the top of the hill for public safety," said Metroparks Executive Director Paul Palagyi. "In 2014, in conjunction with the Painesville Township Park Board who owns the property, a plan was developed to stabilize the shoreline and halt the erosion, and then to design and complete a pier."
The pier is mounted atop weathered open steel baskets, or "cribbing," which were built on the Chagrin River and hauled to the property, at 1025 Hardy Road, on barges. The baskets, filled with boulders topped with concrete, sit on the lake's bottom. Steel pilings, sunk down to bedrock, are welded to the baskets.
"The open basket and boulder design dissipates the energy of the lake, allowing waves to break inside the pier rather than slamming up against a concrete wall," Palagyi said. "This is a very stable, strong pier that we expect to last for generations.
"This is also an incredibly great fishery habitat, too, and it gives people with no boat an opportunity to be in the heart of that habitat."
Lake Metroparks manages the property, and the Painesville Township Park Board will contribute funding up to $500,000 annually for maintenance.
Painesville Township Park is open 6 a.m. to 11 p.m., but the pier, which is well-lit at night, is open 24 hours for fishing and other legal activities, said Palagyi.
Due to the extremely rocky part of the shoreline and no beach to speak of, swimming and diving are prohibited, in addition to mooring boats. The pier is monitored by a security camera and can't be reserved for private events. The pier will also remain open during park programs. During the winter, the pier will close when it can't be property maintained.
"We built this not for ourselves, not for the parks, but for the citizens of Lake County and for this area," Palagyi said. "This is a very viable public interest."